It's all about the Cats
I have always been a Dog sorta guy… ever since I was a little kid.
The first dog in my life was called Toy… He was a HUGE furry black thing that used to belong to one of the neighbours but that has always been around us since I was a little baby… I actually remember mounting it and using it as a dog at some point… and the silly dog would simply get up and walk… hehehehehe…
My first dog was a blue merlow collie called Bluster when I was 5 years old… and from there on I've had at least 6 different dogs.
As you can see… I am a dog kinda person… They are loyal, cuddly, always there for you… no wonder they are called a man's best friend…
Then I met the ex wife… a cat lover… and the most temperamental cat I've ever met… Tigger, that for some VERY strange reason decided that liked me… and for some VERY strange reason I kinda liked too… apart from when he would just turn on me because… well… because it wanted… Then Tigger died… it was sad and all but I really thought: no more cats…
No such luck… As my marriage got undone I fell in love with another cat lover… And Hales has 2 cats… not one… So I became the daddy to a couple of felines… The weird thing is… T(the boy) has my temperament… easy going… kinda spaz… playful… clueless… and A(the girl) has Hales temperamental and totally independent personality… Funny uh???? I think is awesome!
So basically I now like cats too… Go figure…
But I am not really here to write about my relationship with animals throughout my lifetime… Believe me… I could… I have a lot to say about them… one of them for example is how I HATE to clean the cat liter trays (if you follow my tweets you will know that already as I complain about it there every time I have to clean them up… grumpy old man me… hehehe
Luckily the awesome peoples at the Petfood Warehouse sent us a couple of bags of Cat's Best ÖkoPlus Clumping Litter to try  and review.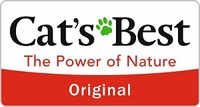 I'll be honest with you and say that when I opened the bag and saw the stuff I wasn't very convinced it would work. It looked and smelled like chips of wood…
Then again, it makes sense… the stuff is organic and 100% biodegradable… you are even supposed to be able to throw it
down the toilet and flush it withut having any issues… Of course… That will depend on how much your cat goes to the toilet… and lets say that T&A do it A LOT!!!!
The press release said that it should totally bind the odour and I am happy to inform that it actually did it leaving instead the fragrance of spruce wood, which accumulates naturally in the environmental cycle.
Not just that but ÖkoPlus is also easier to clean from the floor than the sandy version making it WAY more hygienic than it's counterpart…
The price is also a great attractive for it as the 5L pack is sold at Petfood Warehouse for only £3.99 and it does last at least 6 times longer than the sandy cat litter you usually get in supermarkets. Just so you have an idea… We're still using the same samples the sent us a month ago and there's still some in the pack to be used… Get the idea???
So… it neutralizes the bad odour, it is easier to clean when spilled off the tray making it mor hygienic, it is 100% biodegradable so 100% eco friendly (I've been told that you can even use it as compost after the cats are done with it… erm… okay), economical, and Lightweight making it easier to transport…
It totally gets the Urbanvox Seal of approval… And that is coming from the guy that absolutely loathes cleaning up the cat litter trays so I suppose it is something right?
One thing… I wasn't brave enough to try and put it down the toilet and flush it like they say you can do… but if you go with it and do it… please do let me know what happens because I am WAY curious!!! hehehehe
😉
This post is powered by FuelMyBlog
2 comments